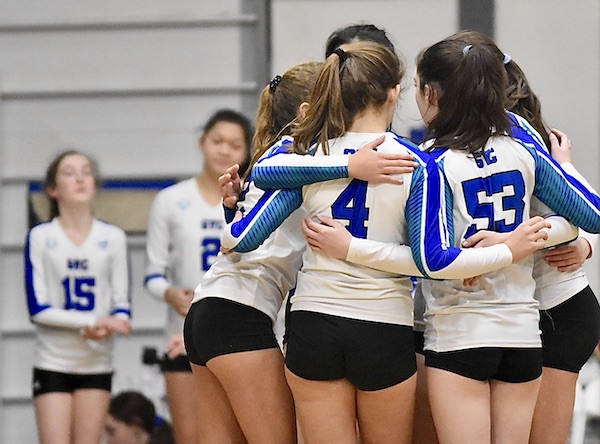 Players' Code of Conduct
Players are expected to represent themselves and GVC in a positive and honorable manner on and off the court

.
Players must act in a respectful manner to their coaches, teammates, opponents, officials, and work teams. Violations will result in less or no playtime and up to possible dismissal from the club without refund.

Practices are at specific times. Players must be

ready to play

with their shoes and kneepads on

at the appointed time. Players must stay until the end of practice unless approved by the coach.
An illness that causes you to miss school will be considered an excused absence. However, sprains, pulled muscles, and soreness are

not

considered acceptable reasons for missing practice. All injured players must attend practice (will not play but can learn strategy, skills, etc. through watching) unless attending a medical appointment for that injury.

Disrespectful, foul or abusive language, and the use of drugs or alcohol will not be tolerated under any GVC related activity. Players who violate this policy

will be removed without a refund

and will not be permitted to return to the club.
Parents' Code of Conduct
Parents who do not follow the below rules will be required to leave the tournament. Additional violations could result in their

daughter being dismissed

from the club with no refund.
Parents are expected to be

positive in their attitudes

toward volleyball and emphasize the cooperative nature of the sport.

Parents will respect coaches, players, opponents, officials, and the team working the match. Yelling about the score, specific calls, or a player's or team's performance is

unacceptable

.
Parents are not allowed on the court, at the bench, or behind the score table once warm-ups begin and should refrain from speaking with their daughters until after the coach's post-game talk.
Parents with concerns or questions should first communicate with their daughter's

Coach at an appropriate time

(tournaments and the middle of practice are not appropriate times). If an issue remains unresolved, the

Club Director

should be contacted. The Club Director is the final authority.
Parents are expected to ensure that players

arrive and leave from practice and tournaments at designated times

. Teams play and work together - players are not to leave a tournament until

excused by their coach

.

Club's Anti-harassment Policy
We are a member club of the New England Region of USA Volleyball. As a player, you may stop any unwanted contact from a club representative by simply asking (either verbally or in writing) that all contact cease. Any player believing a club representative of any New England Region volleyball club has been intimidating, harassing, or acted inappropriately in any manner of contact or recruiting should contact the New England Region office at (508-868-5316).